Annuities
Annuities Recorded Events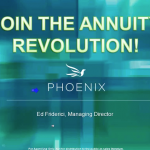 Annuities
Learn more about the Personal Protection Choice Annuity and a recap of Phoenix's most comprehensive product and program enhancement in their history!
Watch Now
upcoming webinars and events
Worksite is the Answer to More LTC Sales!
Selling Long Term Care in the worksite is the simplest way to get in front of large numbers of prosp ...
Critical Illness: A Problem Solver
Have you ever hoped that there were viable options for your clients who find LTC too expensive or si ...