We Make You More Efficient and Profitable
Slider [" Why Aim"] not found, please double check the slider name and try again.
When you make a choice to work with a marketer, you want more than just a contract.
Agents have been successfully growing their businesses and in turn, their revenue with help from American Independent Marketing (AIM) for more than three decades. Our longevity is the result of our ability to understand the needs of agents. Many competitors make similar claims; however, there are five key strengths that set us apart: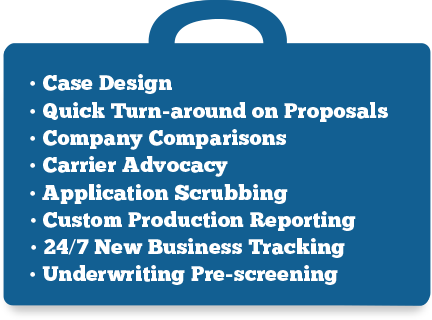 We create the best opportunity for you to succeed.
We're a sales organization first. Our advanced marketers know our industry inside and out and deliver superior service. Many have experience selling our products whether it's Long-Term Care insurance, Medicare Supplements, Critical Illness, Life or Annuities. They will assist you with each case by providing essential support services such as:
"I have been associated with AIM for around a dozen years, have always appreciated the fact that the phone is picked up right away, if you or someone else I need to talk to isn't available right then, the operator will find someone for me to answer my questions and help me out."
+ Your Needs Come First
If you want to talk to a machine, call your credit card company! AIM does not believe in voicemail. When working with AIM, you have your own dedicated Marketer who knows you personally and is familiar with your business and the unique sales and marketing issues you face. The agents we work with have confidence that they can ALWAYS talk to a person and get accurate information fast.
Knowledge & Experience
Knowledge
When you need answers, you need AIM.
Our time and experience in the insurance industry make us a highly effective business partner to work with. You're serious about your business and we fully appreciate how limited and valuable your time is when responding to the needs of your clients. That's why we see your need for accurate information as both important and immediate and you deserve it from seasoned professionals who know the business inside and out.
The years of experience behind each of our Marketers enables them to literally anticipate your needs based on their conversations with you and remove any barriers that might get in the way of a successful sales outcome. Focus is the key and our objective is to see you maximizing your time selling and take as much non-revenue generating activity off your desk as possible.
+ Our Success is Your Success
With 35 years in the business and touching tens of thousands of agents we have generated several billion dollars in premium income. Success of this magnitude doesn't happen by accident. It takes hard work, many great relationships, dedication and some hard lessons learned along the way. Our agents are the beneficiaries of this success.
We're a sales organization first. Our value to you goes well beyond the many insurance products we offer or the sales tools we create. It's the considerable influence we've earned over the years and the national presence we enjoy that enable us to secure top level contracts with every carrier we do business with. This results in higher overall compensation to you in addition to providing numerous efficiencies gained by doing business with a single competent resource.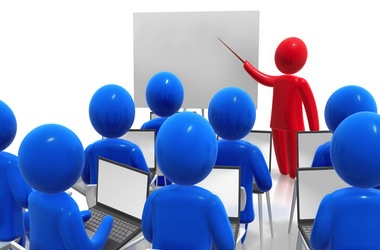 The Learning Never Stops At AIM.
Helping you increase your sales is at the core of all the training we do. That's why our sales training curriculum is rooted in real world sales ideas that work! Additionally, our training venues present a unique opportunity for you to meet and exchange ideas with other agents in your field. Our agents tell us that this opportunity to meet and share ideas alone is a huge incentive for attending our workshops.
+ If you want more than seminars, we have it
AIM delivers training in a variety of formats to meet the various needs and learning styles of our agents. No matter what the product or subject matter, you'll find the content you're looking for in any of the following forms:
Weekly webinars
One-on-one training sessions with our marketers
PowerPoint presentations and sales tracks you can study on your own
You will find that our sales training will strengthen your selling skills, make you more nimble in the field and ultimately give you a competitive edge that takes your business to the next level.
Our Tools Make You More Effective
We know that sales tools alone can't close sales, only you can. However, having the right tools can go a long way towards reinforcing your overall sales efforts and enhancing your efficiency.
When working with AIM, you will have access to a suite of unique sales support tools that are intuitive and easy to use. What makes our tools so effective is the fact that they are built upon the many inputs we've received from our agents in the field. Our valuable sales tools can't be found anywhere. They're only available – free of charge — to agents working with AIM.
+ Aim Productivity Suite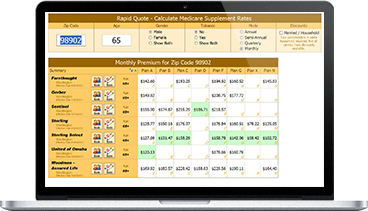 "Rapid-Quote" – A Powerful Medicare Supplement Quote Engine
"Rapid Quote" pinpoints a Medicare Supplement carrier's pricing right down to the zip code! Since the Med Supp pricing environment is in constant change, "Rapid Quote" helps you quickly identify the most cost effective solutions available making it easier to close sales fast.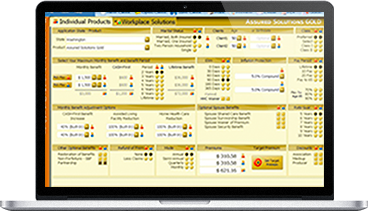 Unique Proposal Software for AIM's Proprietary Products
Because of our unique relationship with United of Omaha Life Insurance Company in Long-Term Care we've developed custom quoting software for these products. See for yourself – our agents and even the carriers we work with think we've built the best quoting software around.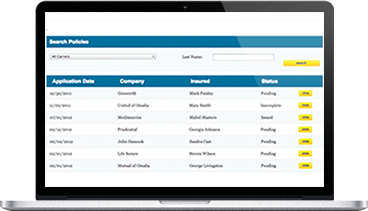 Tracking Your New Business Status 24/7
Working with AIM gives you access to our "Pending Application Status System" known as PASS. The system enables you to retrieve new business status in real time whenever you need it. This simplifies the time consuming task of tracking your new business activity especially when working with multiple carriers. Additionally, PASS updates you with email notifications whenever new activity occurs.
Other Point of Sale Resources
There are many other home grown sales aids available through AIM ranging from product comparisons, sales tracks and even PowerPoint presentations suitable for both individual and employer group sales opportunities.
Your Agent Dashboard Keeps You Focused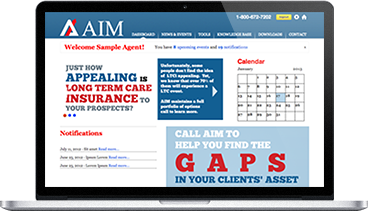 When working with AIM, you'll have your own personalized dashboard that gives you convenient access to everything you need to manage your business, including:
Your production data
The Pending Application Status System
Industry and carrier updates
AIM's event calendar
Ordering supplies
Staying on top of your business has never been easier. Your personalized dashboard is accessible through your AIM web portal and organizes all of the information you need on a single user-friendly screen.