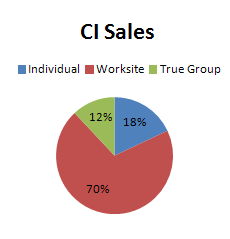 There were 40 companies that participated in the Gen Re 2013 Critical Illness Market Survey, 19 of which offer traditional Individual products, 16 offering True Group and 22 offering Worksite products. The industry reported double digit growth again with over 950,000 new policies/certificates sold in 2013 for over $308 million in new sales. What's more, and this is the punch line, over 70% of new sales were worksite sales. For this reason, we are extremely excited to announce the addition of TransAmerica to our CI portfolio, giving us a strong option in the worksite market.
We researched the market and found that TransAmerica had the right combination of underwriting, strong first year and renewal commissions, company strength and product attributes to be the winning combination for us and for the agents we work with. With the rollout of HealthCare reform, sales in the worksite market are exploding – especially supplemental health like critical illness, cancer and accident plans. TransAmerica offers all of these plans and more and best of all, offers them on a guaranteed issue basis. Simplified issue is available on groups as small as 2 people.
Interested in learning more? Call us and ask for Dave Whelan and click here to sign up for our introductory webinar. For contracting, click here.